(Please pardon the long-winded review. This will be going on my personal blog, so I thought I'd cross-post it here. I'm going in-depth, so grab a drink and have a seat.)
This beautiful pistol followed me home yesterday. I think I'm gonna keep her.
The Smith and Wesson 1911PD, .45 ACP.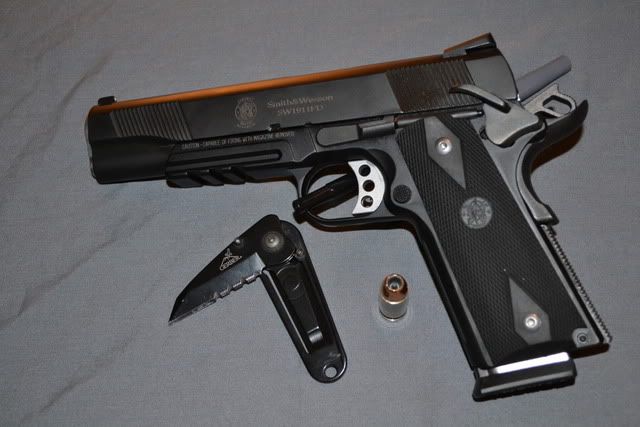 After seeing a review on Youtube of this very pistol and doing a massive amount of research from all available sources, I knew I had to have one. The problem was that Smith no longer makes them. The last time this exact model showed up in the Smith and Wesson Catalog was in January of 2007, and this model was replaced with the "E" series, so my hopes of finding a new one were slim to none. Still, I kept my eye out for used ones to hit the market, but they were few and far between.
Low and behold, I strolled in to Gunnies in Orem on Tuesday and found one buried in the back of a cabinet, next to all manor of Kimbers and Sig Sauer 1911s. They had one more in the back, and after a good inspection, I promptly put her on layaway. She came home with me last night.
In my opinion, this is the new-age version of John Browning's masterpiece. The deviations from the original M1911 are obvious, but include an external extractor, a Schwartz safety, and a Scandium frame. Scandium is a rare metal that S&W uses in their pistols, and it's alloyed with a number of other metals (including the rare Scandium) which makes the aluminum alloy significantly stronger than previous alloys, while retaining the light weight of aluminum. Scandium was not widely available (because of economic costs) until the fall of the USSR. The Soviets used Aluminum/Scandium in their ballistic missiles and submarines, and it's now made it's way in to the mountain biking world, becoming common in several high-end mountain bikes.
It seems as though Scandium-framed pistols wear very well. I never ran across a bad review of the stuff as used in firearms (by those with first-hand experience, anyway). It has a bit more "flex" or "give" than steel does, but retains much of the strength needed to handle today's modern handgun ammunition loads. In this case, the frame is made of Scandium and the slide is a stainless steel, which should provide years of rugged use. Not that I would put this firearm through anything "rugged"...
I don't have a digital scale, but
S&W's spec page for the 1911PD
lists the weight as 33.4 oz unloaded. In comparison, my Glock 19 weighs 21.1 oz unloaded.
Anyway, on to the SW1911PD -- by the way, "PD" is for "Personal Defense".
First, the fit of the pistol is very good. It's as tight as I've ever seen a production 1911, with no discernible rattles or play in the slide-to-frame fit. I checked the entire pistol over from top to bottom, and couldn't find any discernible machining issues. The slide travels backward
very
smoothly.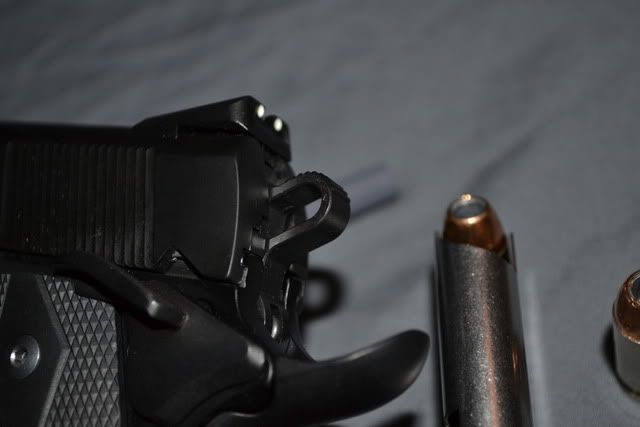 The finish is beautiful. Smith and Wesson calls it a "Melonite" finish, which is a hard-wearing surface treatment done to the entire pistol. Melonite is simply another name for Tenifer, which is a word recognizable by Glock aficionados.
With a light coating of oil, it's a deep, dark, evenly-coated black.
You'll also notice that it's a railed 1911. I'm not entirely sure that I'll ever use the rail for anything, but I do like the "tactical" look as well as having the ability to mount a light or laser as I see fit.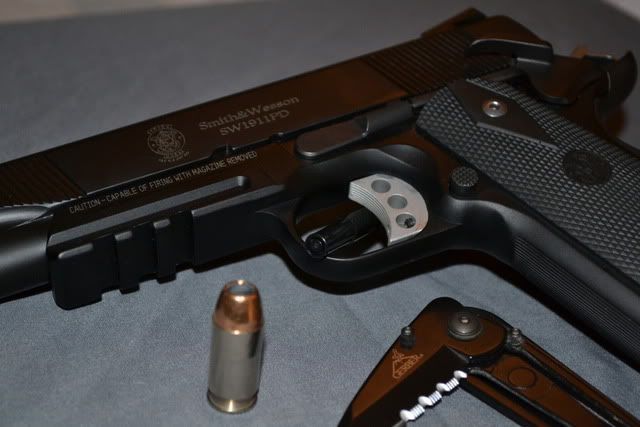 On the slide, Smith and Wesson's roll mark and stamp is visible -- though, interestingly, only from certain angles. It seems to be a very shallow laser etching, because the edges of the grooves are VERY sharp (though extremely shallow). Running a cleaing cloth over the roll mark ends up leaving small strands of cloth stuck in the grooves.
The trigger is an Aluminum vented style, with an over-travel stop, and a serrated front.
With just one range session in the books, I noticed that some wear marks were showing up from where the trigger was contacting the frame of the pistol (if you look closely, you can see the wear marks on the side of the trigger). Though the slide-to-frame fit is superb, one thing I don't like is the fit of the trigger -- not the trigger pull, mind you, but the actual trigger. It's quite loose, and has quite a bit of play from side to side. This is something I'll be fixing; most likely with a new Ed Brown match trigger from Brownells.
The grips that came with the pistol are Hogue grips. They're functional, but not my taste. I think I'll end up with a nicer carbon-fiber grip in the near future; something with a little "pop".
Around noon today, I packed up every .45 ACP rounds I had and went to Discount Guns and Ammo in Provo to made good use of their range. It was quiet; just one other person there. The memory card that housed those photos decided not to work, so you'll have to settle for a photo of my best grouping of the day.
8 rounds fired at the "7".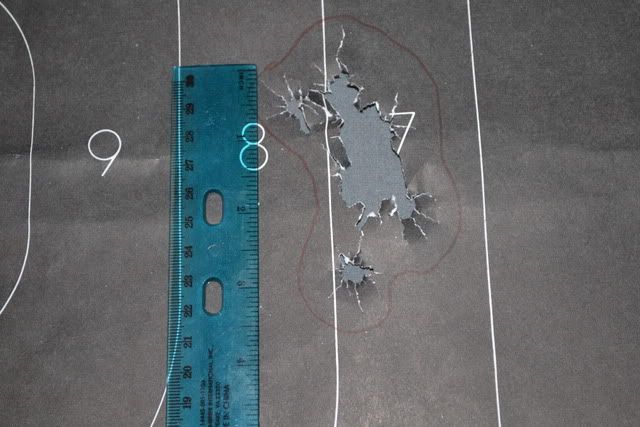 This is as accurate a pistol as I've ever fired. Just like my wife when we go out for a night on the town, she makes me look good.
I fired 340ish rounds today, and had zero malfunctions. I fully expected there to be at least a couple of feeding issues -- breaking in a tight-fighting 1911 can wear the patience thin sometimes -- but the gun functioned flawlessly. The slide locked back on every magazine as it's supposed to. Speaking of magazines, the pistol came with 2 ACT-brand magazines, and I purchased a Wilson Combat 47-D, and they all functioned perfectly. The Wilson mag, especially, fit like a glove -- I'll be purchasing a lot more of them. The ammo used was the cheap Wal-mart-special Federal red box, as well as 31 rounds of Federal's 230-grain Hydroshock hollow points, which I've come to love in my Glocks. The 1911PD ate them up with nary a problem.
Even though it's a relatively light firearm, the perceived recoil was only slightly more noticeable than a steel-framed firearm. It was extremely controllable, and came back on target very quickly. Though I have very little experience with mid-to-high end 1911s, this is hands down the best trigger I've ever had the pleasure of pulling. There was very little take up, and the pull (as measured at Discount Guns and Ammo) broke glass at a consistent 4.25 pounds.
So, that's all the good. Here's the bad.
There isn't much NOT to like about this firearm. There are only a few complaints that I have: One was the fit of the trigger (something I'll fix soon enough), and the grips need to be changed. Lastly, the sights are very basic. I'd very much like to get some low-pro Trijicons on there, and fully expect to have that done in the future, too. Also, I'm not a huge fan of ambidextrous safeties, so I'll probably switch that to a single-sided. All of those complaints are cosmetic in nature, and easily fixable.
As far as holsters go, I picked up a Serpa and it fits perfectly. I kinda wondered if there would be issues finding a decent holster, but the rail is low-profile enough that it doesn't seem to cause a problem. Once I recover financial from the shock of purchasing this beauty, I'll end up having a custom in-the-waistband holster made.
It might just be the "newness" factor, but having just recently sold my Glock 26, I fully expect the Smith and Wesson 1911PD to take over at least some of the daily carry duty from my Glock 19. I'd like to hit 500-800 rounds without issues (and several boxes of my carry round) before I start carrying her, but I look forward to figuring out the monumental task of concealing a full-size 1911.
Thanks for sitting through my super long review. Feel free to ask any questions.
After this great experience, I highly recommend Smith and Wesson 1911s.