Picked this up from Cabela's after getting it transferred down from the Boise location. I've had a short-rail CZ-75 on my wish list for some time, so I had to jump on her when I came across one. And boy, is she a nice one...
Out of the box, the bluing on this is beautiful, if showing some "honest" holster wear. While the polycoat option on newer CZs is good for practicality, there's just something really nice about a deep bluing. The backstrap has a vertical and horizontal crosshatch, while the front of the grip has some kind of stippling effect for texture. Together with the grip panels (still considering the possibility of getting some checkered walnut panels), they make for a nice, solid "I'm not going anywhere" grip while still remaining comfortable.
Interesting that there is no import mark anywhere...
That must be part of the 'if the new owner would like to know the history of this pistol, call this number' note that the previous owner left with the pistol.
She shoots well, at least as well as a current CZ-75 B in my hands (I need to polish up, I'm a bit out of practice). With an all steel frame, recoil is very manageable, and the brass bead on the back of the front sight helps get a quick sight picture. The trigger is nice and smooth, though I'm not sure if it's a case of "smoothed out over use" or a trigger job. As there is slightly less metal than with the CZ-75 B, the pistol is slightly lighter overall, and the balance is slightly further back (balance is better than the CZ-75 B, IMHO). 100 rounds and only one feed failure (bad round, and bad me for not checking beforehand).
But now, pics!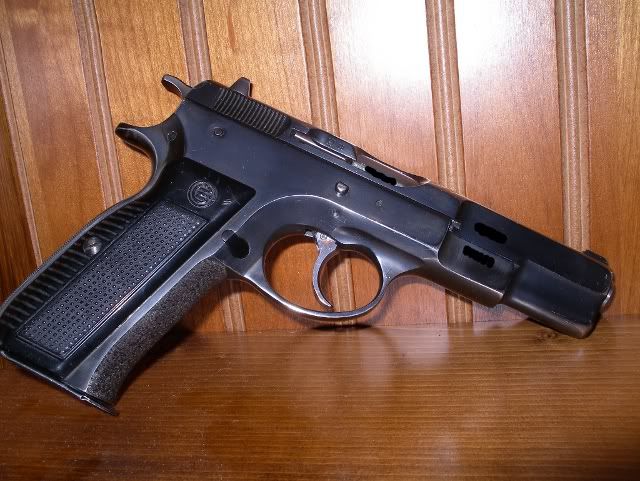 Overall, she's probably my favorite pistol yet