I got to shoot the
new gun
So, a little range report. So far, really happy with the performance. I shot 90 rounds of Walmart white box, Winchester 165gr. No FTF, FTE. But, the slide locked back on empty only 1 of 8 times. I'm guessing this is an ammo issue, or break-in issue. If anybody has other thoughts, let me know. Recoil was extremely light. It's been a really long time since I shot a 9mm, so it's hard for me to say, but that's what it felt like. But the recoil was still flippy, which I don't remember experiencing with the 9mms I've shot. Of course at 2.4lbs, the gun was heavy. Not a huge deal (for me), but after 50 shots I noticed some shakes that I had to fight back. Really like the trigger. It's easy to pull out the take up while returning to the target, and the four pound SA trigger was real nice after that. It broke really cleanly; I didn't notice any creep. Pretty accurate right out of the box. The two images are the first 24 shots, at 15 ft and 30 ft.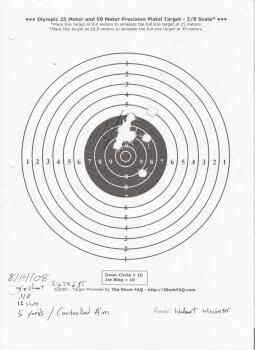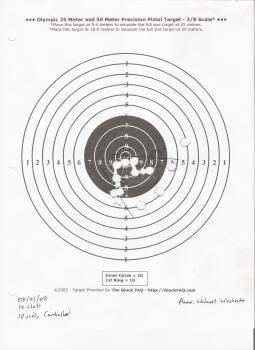 If I left out any information, let me know. There are some more pics
here at this link
for anyone interested, but I don't want to crowd the thread with them.
On a separate note, does anyone have a recommendation for a good slide grease for stainless? I've had TW25B recommended, but couldn't find any at Cabellas or Sportsmans.