Discussion Starter
·
#1
·
OK. Nobody burst out laughing at me. Yes, I bought a HiPoint. Let me explain. I have actually been looking at them for a while now. They were on sale at Smith and Edwards Saturday for $130. Now how can you possibly pass on a brand new $130 .40 S&W handgun that is made in the USA and has a lifetime warranty. I couldn't. I figured what is there to loose really....$130....I can turn around and sell is on KSL.com for that much any day of the week, so I bought it. For those of you that haven't seen a HiPoint, here it is:
http://www.hi-pointfirearms.com/handgun ... p?Gun=40SW
They also had the 9MM on sale for $110 and my buddy bought one as his first handgun. So anyway, I was actually pretty excited to go shoot it. After shooting 99 rounds (should have made it an even 100, but didn't) I am EXTREMELY pleased with my purchase. It went bang every single time I pulled the trigger. No misfeeds, jams, or anything. I ran 50 rounds of the cheapest WOLF ammo I could get my hands on through it. I ran 40 PMC brass rounds through it. And I ran 9 Federal HYDRASHOCK rounds through it. There was not 1 single problem. (I did clean it before I took it to the range.) It was actually pretty darn good to handle and I thought it shot well. I did some rapid fire (I won't post any of those embarrassing targets...I do know what I need to work on). It worked fine pulling the trigger as quick as I could.
Now I will be the first to admit, that it is an UGLY sucker. It doesn't have any bells and whistles and no real features to speak of. However, if you just want a CHEAP gun that is fun to shoot, this is it. I actually was just grinning from ear to ear at the range as I shot the gun. I couldn't believe that a $130 gun actually worked and was this much fun to shoot. I kind of felt like I had gotten away with an absolute steal....maybe thats why I was grinning. Now I have read plenty of posts on other forums of people who think the HiPoint is an absolute POS. It is heavy and ugly and pretty clunky looking. However, in my hand it shot great. I would not recommend it as a carry piece or as your main firearm, but man for $130 I don't have one single complaint. My buddies 9MM (HiPoint) shot great too. This gun is great for the price!
Here are a few of my targets at 10 yards.
This first target is the first 10 rounds EVER through this gun. The rest are just other targets to show this wasn't a fluke. Enjoy: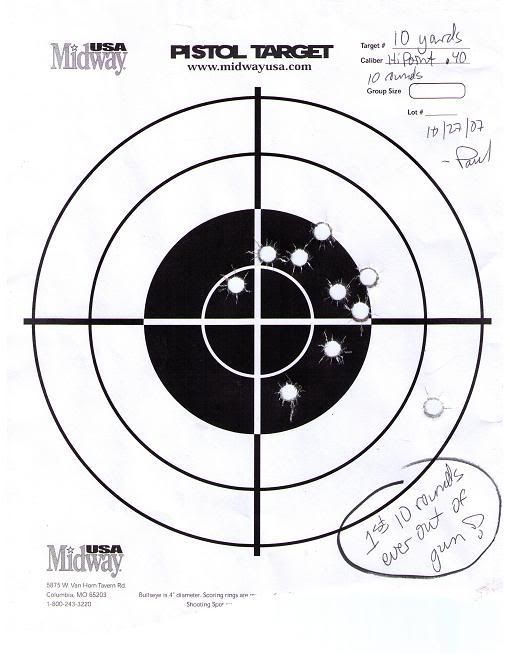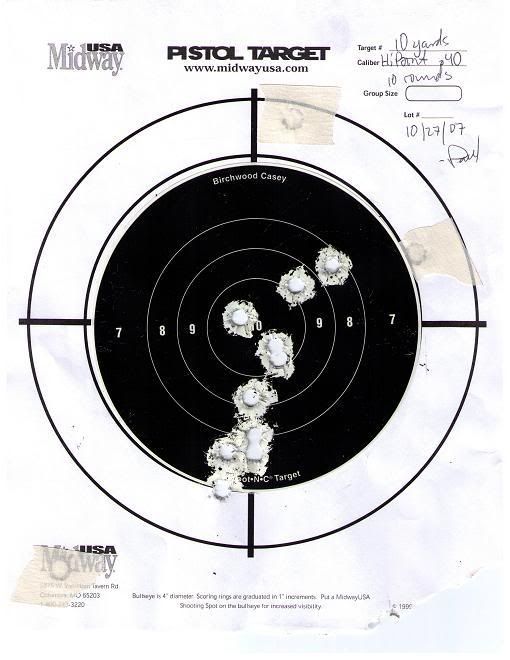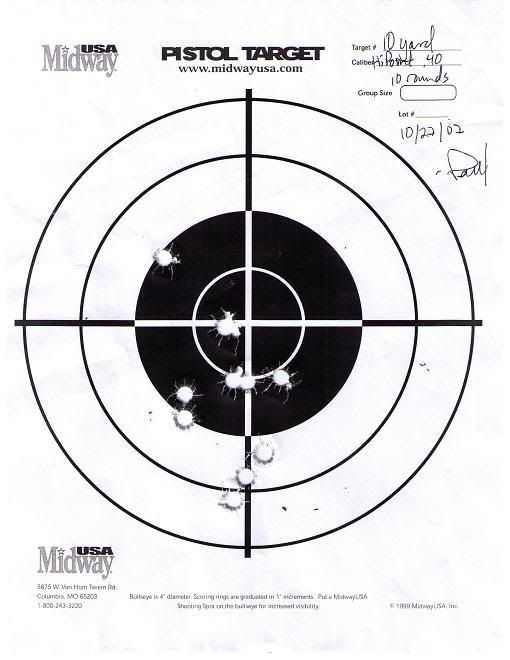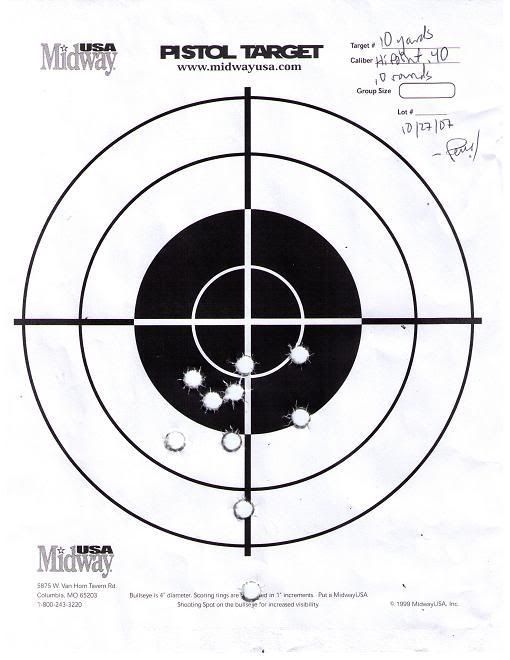 -PW