Discussion Starter
·
#1
·
Thought it would be fun to have a place where we could post some of our targets. I really don't shoot with many other people. I have only really been actively shooting handguns for the last year and I usually go to a public range that is just on some state property. There usually isn't anyone there so I often shoot alone or with my wife and kids. So I don't really know what a good marksman's targets look like. I would love to see some pictures of targets you guys have shot.
Anyway I was bored for a few minutes this afternoon and ran up to the range. I just got some magazine pinkie extensions and a trigger shoe (wider trigger) for my Kel-Tec P3AT and wanted to go test them out. I also had just bought some new personal defense ammo and wanted to make sure it ran fine in my gun.
So here it is. Let me know what you think. I think its pretty good for such a small gun, but don't really have anything to compare to. I would especially be interested to get any input on why I consistently shoot right with this gun. I shot at 8 yards. I shot 13 times and all are on the target but only 1 shot is to the left of center. I don't shoot like this (to the right) on my Ruger P89 (9mm). Any ideas, suggestions.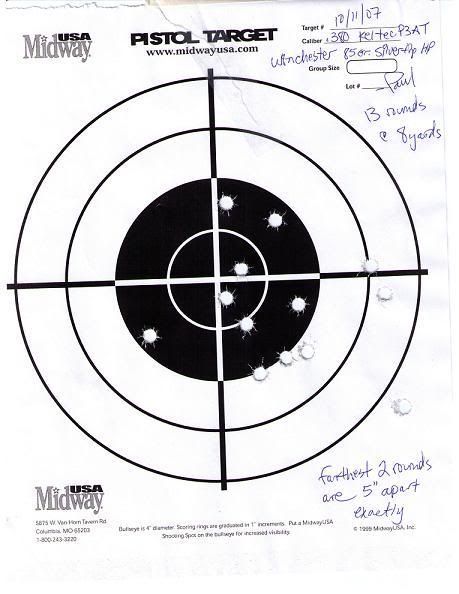 -PW